LEAN SIX SIGMA TOOLS PROVIDE BUSINESSES WITH THE OPPORTUNITY TO CREATE THE MOST EFFICIENT PROCESSES WITHIN THEIR INDUSTRY.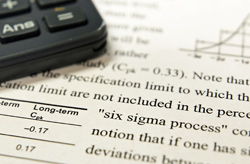 Beyond having certified project management skills from the Project Management Institute (PMI), Biovalorem's project managers are equipped with Lean Six Sigma tools and certification granted by the American Society of Quality (ASQ). Lean Six Sigma provides the necessary analytical support to your portfolio of projects and programs to produce tangible results. Many of our clients benefit from the implementation of Lean Six Sigma, and we position these tools at your disposal including access to the leading statistical technologies such as SAS, R, SPSS and Minitab.
Every organization powering Lean Six Sigma methodologies as part of their internal capabilities performs at a level of effectiveness related to their maturity. From inception, we can assist in constructing the framework and consult on ways to increase efficiency. Because we have worked with multiple CMOs and CROs, we have established key performance metrics based on research and experience for both clinical research and manufacturing. If your organization already embraces Lean Six Sigma methodologies, we can assess the maturity level at which you operate, and together, we can work to optimize your Operational Excellence while making your clients even more satisfied along the way.