BIOVALOREM HAS VAST EXPERIENCE IN THE MANAGEMENT OF INTRICATE PROJECTS WITHIN A WIDE VARIETY OF MEDICAL FIELDS.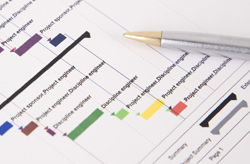 As PMI certified project, program and portfolio managers, we deliver compliant and quality deliverables addressing the current regulations governing your operations. Beyond the day to day activities of confirming deliverable progress using Earned Value (EV), monitoring the team's evolving capabilities, and ensuring seamless communication, our talented consultants incorporate the strengths of collaborative technologies and associated standards such as Sharepoint, SAS, Oracle, HL7, NIST, CDISC, and ISA. The generated synergies enable revolutionary ways to deliver compliant projects.
At Biovalorem, we understand that every organization operates at a different level due to the evolution of their business on the lifecycle journey. We know the client defines project value and where the significant quality attributes lie to measure achievement. If desired, we will assess the business maturity level using known standards such OPM3, CMMI, or both, and then implement methodologies that will ultimately elevate your company's maturity level for further success.